1.Proceed to the EventPro website and login to the Client Login area with your 6-digit license User ID and 4-digit Password.
2.Locate your License file, and click Download File to download the license.
3.Save your license file to your EventPro folder.
4.In your EventPro folder, run the EventPro.EPDataUpdater application file to start the EventPro Database Utility Wizard.
5.The EventPro Database Utility Wizard begins.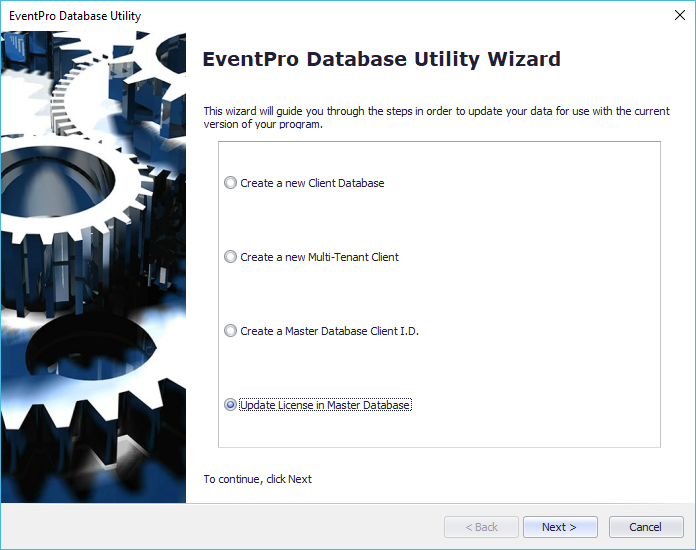 6.Choose the Update License in Master Database option. Click Next.
7.Target Database: Enter the relevant information for the target database.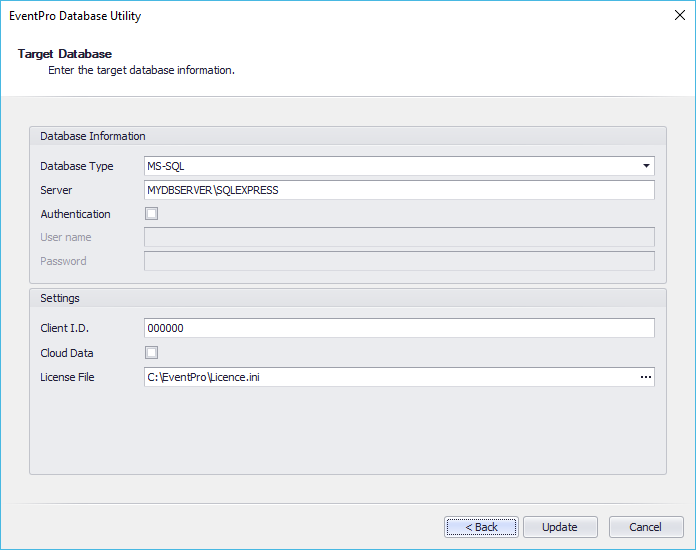 a.Database Information:
i.Enter in your Database Type and Server name.
ii.If you are using SQL Authentication, check the Authentication checkbox and enter the SQL server username and password.
iii.If you are using Windows Authentication, leave the Authentication checkbox unchecked.
b.Settings:
i.Enter your Client ID, which is your 6 digit user ID number or the same value used to create the database
ii.Leave Cloud Data unchecked.
iii.In the License File field, click the ellipsis button to browse to the license file that you just downloaded. Once you've located the license file, click Open to select.
8.Click Update.
9."Completed" will be displayed in the Results section of the Database Conversion Complete window. Click Finish.
10.Your license has now been updated.
11.The person with Administrator rights to perform this update should log into EventPro first, before other users, to complete the update process. After the Administrator has logged into EventPro, the other users can log in as usual.